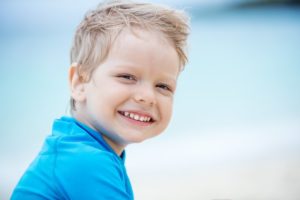 It's back to school time for your children, which means checking off their lengthy list of items they need for their courses. This time of year can be hectic with what seems like a never ending checklist, but there's something that isn't on that list that's even more important than books and pencils: dental checkups. Taking your child to see the dentist is vital, especially when 1 in 5 school-aged children have untreated tooth decay. Keep reading to learn why routine dental checkups should always be apart of your child's back to school checklist from your family dentist in Wethersfield.
Hidden Problems
As mentioned above, many children have tooth decay that is untreated, and they don't even know about it. If tooth decay progresses, it can interfere with speaking, eating, sleeping, and even learning. A simple checkup with your Wethersfield dentist can catch any tooth decay or other issues before they turn into more serious problems.
Oral Hygiene
A back to school dentist's appointment is a great time to remind your loved ones the importance of good oral health. Your dentist will give them a professional cleaning to set them up for success in, and outside of school. Plus, they will be able to tell if your child's healthcare efforts are where they need to be. Most dentists are great about providing helpful tips to make your kid's oral healthcare routine more effective and enjoyable.
Preventive Treatment
Since children are more prone to tooth decay and cavities, and they're constantly eating or wanting to eat sweet or junkie foods, preventive measures can be taken to give your children more protection. Your dentist may recommend using toothpaste with fluoride in it. Fluoride is a natural chemical that strengthens tooth enamel and protects your teeth against cavities.
Depending on your child's oral health, your dentist may also recommend using dental sealants. Protective dental sealants are a popular preventive measure that seals areas of the teeth that are susceptible to decay (usually the chewing surfaces of the teeth).
Mouth Protection
Is your child playing sports during the school year? If so, talk to your dentist about a mouthguard to protect their teeth. If you already have a mouthguard for your child, they can even check it to make sure the fit is correct, and that it's protecting your loved one's teeth properly.
Back to school time can get crazy, but a dental checkup and cleaning is an appointment you don't want to miss. Taking your children in for regular dental visits will save you time and money in the long run, and it will make sure your children's smiles are always as healthy as possible.
About the Practice
Dr. Thomas Dolan has been practicing dentistry for 30 years. His son, Dr. Brendan Dolan, has now joined him at his practice to provide the best dental care possible for their patients. They make a dynamic father and son team, focusing on general dentistry for the whole family as well as cosmetics. They currently run their own practice, and can be contacted through their website or by phone at (860) 529-2000 for any questions.