Porcelain Veneers – Wethersfield, CT
Transform Your Look with Beautiful Porcelain Veneers

If you have flaws or imperfections in your smile, porcelain veneers can literally change your life. At Dolan Dental, we understand the close link between the appearance of your smile and your self-confidence, which is why we offer porcelain veneers in Wethersfield to provide you with a way of transforming your smile in just 2 dental visits. Dr. Brendan Dolan and Dr. Riley Gionfriddo are a team of dentists who are experienced in cosmetic dentistry and transforming smiles. Keep reading to learn more about porcelain veneers and how they can change your smile into your ideal set of teeth.
---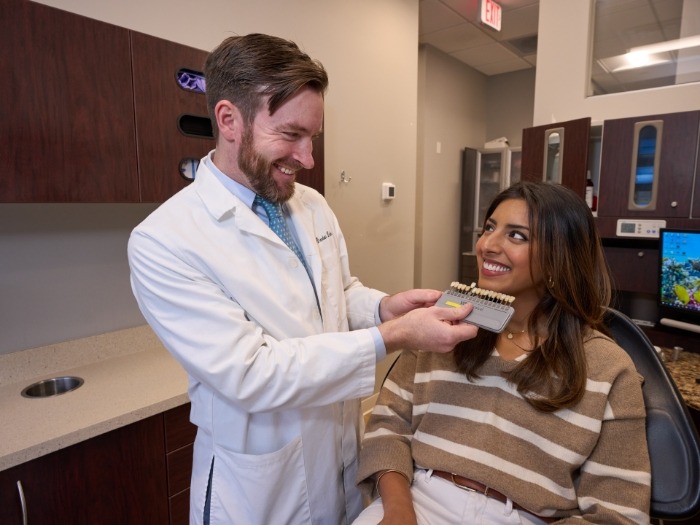 What Are Porcelain Veneers?
Are you ready to give your smile a complete makeover? A brand-new, custom-made set of porcelain veneers could be the perfect choice! Veneers are personalized, extremely thin ceramic restorations that are designed to fit over just the visible surfaces of certain teeth. As a result, they hide years of flaws from view behind a new, imperfection-free appearance. They offer patients a comprehensive way to correct the appearance of one tooth, multiple teeth, or even a whole smile to give you the appearance that you've always dreamed of.
---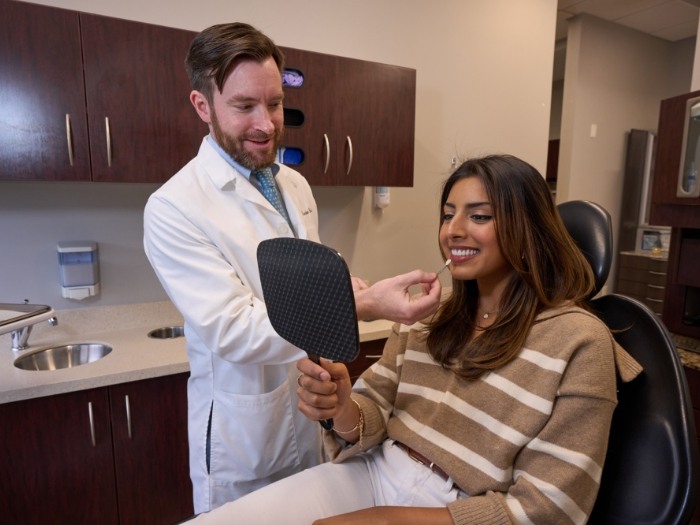 Am I a Candidate for Porcelain Veneers?
If you want to improve the look of your smile, you could be a candidate for porcelain veneers. The only way to know for sure is to schedule an appointment with Dr. Brendan Dolan or Dr. Riley Gionfriddo. They will examine your mouth to determine whether or not veneers are right for you. Porcelain veneers can be used to fix these common issues:
Cosmetic chips and cracks
Small gaps
Stains or discoloration
Misshapen teeth
Slightly crooked teeth
---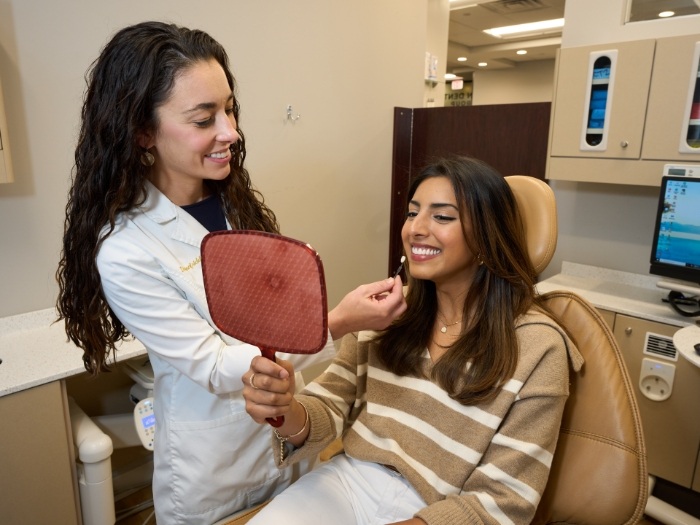 What is The Process of Receiving Porcelain Veneers?
At Dolan Dental, the process of designing, creating, and placing your new veneers typically takes 2-3 appointments. During the first appointment, one of our doctors will discuss what your preferences and goals are for your new smile with you; we will also prepare the affected teeth and take detailed impressions, which are sent on to a trusted dental laboratory. In the interim, our team will provide you with a temporary veneer so that you can continue to eat, speak, and smile like normal while waiting for your new, permanent restoration.
Once the new veneer has arrived at our Wethersfield, CT office, we'll invite you back for final adjustments and placement. It's our goal that your brand-new veneer will look and feel just like your natural teeth.
---
What Are the Benefits of Porcelain Veneers?
Besides their incredible ability to correct numerous flaws all at once, patients are choosing porcelain veneers to improve their smiles for these popular advantages:
Confidence: Porcelain veneers will give you the confidence boost that you need to make important impressions in your personal and professional lives.
Healthier diet: Veneers will restore your biting power if you have decayed or damaged teeth, allowing you to eat a more well-rounded diet.
Stain-resistant: Dental porcelain is stain-resistant, which will make it much harder for your new smile to discolor in the future.
Naturality: Porcelain veneers are made to look and feel just like your natural smile, allowing for a more youthful and healthy appearance.
---
How to Care for Porcelain Veneers
To get the most out of your porcelain veneers, it's important that you know how to care for them. The good news is that veneers don't require extra care or additional tools compared to your normal at-home routine. However, it is still important to brush and floss your teeth daily. You should also visit our office regularly for dental checkups and cleanings to ensure the longevity of your veneers. Please contact us today if you're interested in learning more, or if you're ready to schedule your first appointment.
---
Understanding the Cost of Veneers
If you're interested in upgrading your smile with veneers in Wethersfield, you may be wondering how much they cost. While there is no one-size-fits-all answer, there are certainly a few things to consider as a prospective patient. Read on to learn about the price of veneers, how they stack up to other smile-enhancing treatments, and ways to make the cost more affordable!
The Cost of Veneers Compared to Other Cosmetic Treatments
Veneers are a sought-after cosmetic dental treatment, but there are other options. Here's how the cost of veneers in Wethersfield compares to other popular smile-enhancing services:
Braces – This tried-and-true teeth-straightening treatment can address everything from minor crowding to severely gapped teeth. Typically, the price tag is $3,000-8,000, which depends entirely on your dental needs. Unfortunately, this only addresses the position of your teeth, not the shade and shape.
Teeth Whitening – Professional teeth whitening treatments are safe, customized, and effective. On average, in-office treatments cost $500-700, and at-home kits generally run $300-400. While both in-office and take-home options can blast away stubborn stains, the position and shape of your teeth will remain the same. As a result, you will need to factor in the cost of additional cosmetic dental services if you have misaligned, chipped, or otherwise flawed teeth.
Dental Bonding – Dental bonding has a lower upfront cost ($300-600 per tooth) and can correct minor gaps between teeth, unsightly chips, pigmented discoloration, and more. It is important to remember, however, that the results typically only last for a few years. Therefore, the long-term cost is higher than you might think.
Veneers – Veneers are incredibly unique since they can address a multitude of cosmetic dental flaws, are completely customizable, and can last for decades with proper care. In short, while the upfront cost (generally $1,000-2,000 per tooth) may be higher, the tremendous benefits make them well worth it. Plus, there are ways to make the total amount more affordable.
How to Make Veneers Affordable
Veneers typically aren't covered by dental insurance providers. Our cosmetic dentist in Wethersfield has an option to make achieving your smile goals more feasible – third-party financing. Divide your dental expenses into smaller monthly payments to reduce your stress about moving forward with the procedure. Contact our team for a cosmetic consultation to learn more about treatments and payment details!