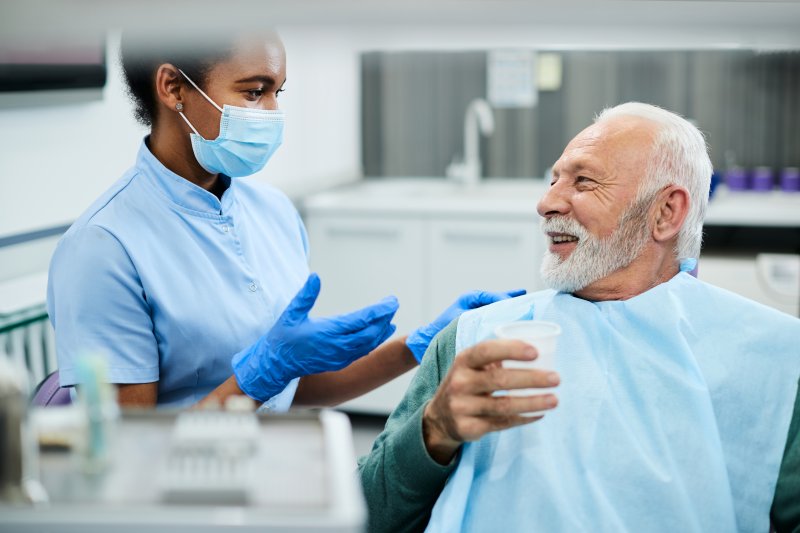 As the most permanent method of tooth replacement, dental implants allow patients to eat, speak, and smile with more confidence than similar procedures. If you're tired of wearing dentures, missing teeth, or about to lose a tooth and considering switching to dental implants, you may be wondering what they feel like in your mouth. To help you decide if they're right for you, here's some information on what you can expect and some of the benefits of dental implants in Wethersfield.
What Do Dental Implants Feel Like?
A dental implant is a replacement for the root of a tooth. They are usually made from titanium and inserted directly into the jawbone where they fuse with it through osseointegration. After the dental implants are placed, some patients report experiencing a somewhat weird feeling while they eat. Some mild discomfort and new sensations are to be expected during the healing process.
Over time, you'll begin to adjust to your new smile and get more comfortable with eating and talking with your new implants. Eventually, you'll notice that they feel just as comfortable and natural as your real teeth! Additionally, since the implants are inserted into the jawbone, you won't have a lingering metallic taste in your mouth and will be able to fully enjoy the flavors of your favorite foods.
Benefits of Dental Implants
Now that you know what dental implants feel like, why should you consider getting them? Some of the benefits of getting dental implants include:
Lifelike stability – Sincetitanium bonds directly to the bone of the jaw through osseointegration, dental implants are more stable than some other restorations.
A confident smile – Dental implants don't slip around in your mouth like dentures. This means you won't have to worry about them falling out, making it difficult to eat, or sitting in your mouth uncomfortably.
Vastly improved biting power – Unlike with some other restorations, eating with dental implants is easy. Since they're attached to the bone, you'll regain 80% or more of your natural biting power, meaning you can still enjoy your favorite foods as you did before you lost your teeth.
If you're ready to restore your smile with dental implants, reach out to your dentist in Wethersfield to make an appointment. Before you know it, you'll be on your way to the stable, functional, and more beautiful smile you've always wanted!
About the Practice
Wethersfield's oral health is in good hands with Dolan Dental Group. They provide quality dental care to both adults and children in their comfortable, inviting office. If you're interested in dental implants, their talented team will take the time to explain the procedure to you so you feel confident in the care you're receiving. They go above and beyond to make sure their patients are well cared for from start to finish. To learn more about what dental implants feel like or to schedule a consultation, visit their website or call them at (860) 529-2000