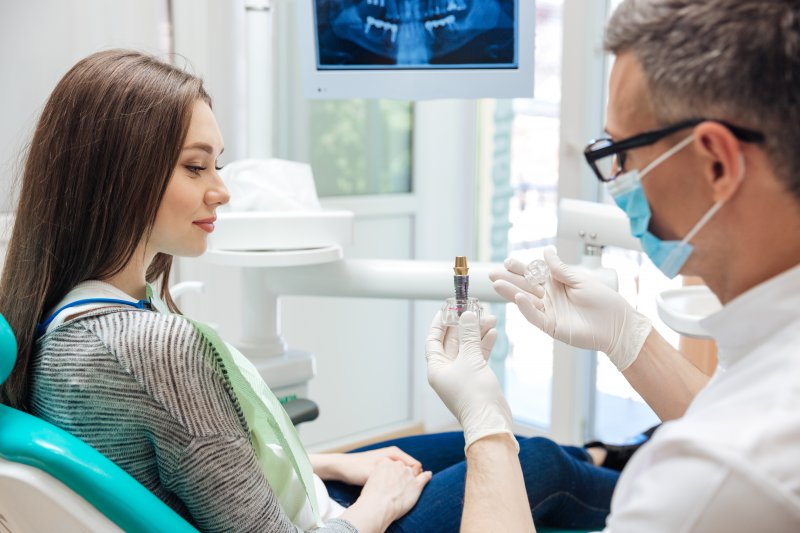 Dental implant treatment may not be invasive, but it does rely on a complex process. In particular, the replacement tooth fuses with your jaw as the latter grows new bone tissue! As you might expect, then, it can take a while before you're ready to return to work. After all, you don't want to do anything that would upset the delicate fusion process. To learn more, here's a summary of three factors that could influence your recovery time for dental implant surgery.
Number of Implants
Understandably, the number of implants placed during treatment will impact when you recover.
For instance, patients who receive only one or two implants can expect a shorter recovery timetable. In fact, they may even be able to return to work sooner than they thought.
On the other hand, give yourself more time if you received more than two implants. You may want an extra day or two to allow swelling, bruising, and other post-surgery effects to subside. Otherwise, you'll likely find focused work a challenge.
Need for Bone Grafting
Depending on your situation, your jawbone may not have enough tissue to support dental implants. In that case, a dentist would take bone from elsewhere in your body to augment the implant site (i.e., a bone graft).
Although minor bone grafts shouldn't affect your recovery time, more complex procedures can significantly alter your timetable.
Following Post-Op Instructions
Whatever the number of implants or bone grafting needs, your dentist will send you home with post-op instructions. You can further minimize your recovery time by following them as closely as possible.
For instance:
Keep your mouth clean: Brush your teeth as you normally would after surgery, though add a warm saltwater rinse. With this approach, you'll reduce the chance of post-procedure infection.
Eat and drink right: The instructions will include softer foods and drinks to eat during your recovery. Focusing your diet on these items makes it less likely that the implant will fail to fuse properly.
Avoid bad oral habits: Drinking alcohol and smoking can delay healing and increase your chances of developing an infection.
Take it easy: Don't work up your body after treatment. Intense physical activity could increase swelling, throbbing, bleeding, and discomfort around the implant.
You may not be able to get back to the office right after your implant treatment. Still, you'll get back quickly enough if you consider the above factors!
About the Practice
Dolan Dental is based in Wethersfield, CT. As led by Drs. Thomas and Brendan, the practice emphasizes friendly one-on-one dental care for all ages. To that end, its staff offers preventive, cosmetic, and restorative dentistry, not to mention emergency dental treatments. From standard teeth cleanings to high-quality implants, the team has everything you need for a great smile! For more information or to book an appointment, you can reach them at their website or by phone at (860)-529-2000.