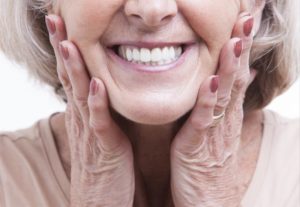 Are you missing most or all of your teeth? Has this problem made it hard to just live your life the way you used to? Do you have trouble eating, speaking, and even smiling like you did before you lost your teeth? If so, you could benefit from getting those missing teeth replaced. Luckily, there are two main options: dentures and dental implants in Wethersfield. Continue reading as we compare the two of them and figure out which one is better for you.
All About Dentures
You've probably heard of dentures before – a set of prosthetic teeth attached to a gum-colored base. Full dentures, which are most likely what you think of when you hear the term "dentures", consist of an entire arch of teeth. Partial dentures, on the other hand, are designed to recreate only some of your missing teeth. While full dentures are held in place with natural suction, partial dentures are secured to your remaining teeth with either brackets or clasps.
All About Dental Implants
When it comes to replacing missing teeth, dental implants are truly in a class of their own. Implants are titanium posts that are surgically placed directly into the jawbone. Once they have fully integrated with your jawbone after a few months of healing, they are topped with a restoration. That can be a crown, bridge, or even a denture, depending on how many teeth you're missing. These restorations are completely lifelike, ensuring that your dental implant looks, feels, and functions just like your previous natural teeth did.
Which Is Right for You?
Ultimately, it's up to you and your dentist in Wethersfield to make that decision. Without knowing about your individual case, it's impossible to know which solution would fit you better. However, dental implants are generally seen as the more worthwhile option.
Implants offer a whole host of benefits over dentures, such as:
Lasting for several decades as opposed to just one at most
Not slipping around when speaking or chewing
Restoring even more of your biting power
Being easier to clean (just regular brushing, flossing, and checkups are required)
The best way to determine whether dentures or dental implants would best benefit you would have to come from a consultation with your dentist. They can discuss all of your options at that appointment.
About the Author
Dr. Thomas C. Dolan is a graduate of New York University's College of Dentistry, and has been practicing in the field for more than three decades now. He has also achieved a Mastership in the Academy of General Dentistry, a feat that only 6% of practicing dentists have accomplished. He regularly takes continuing education courses through institutes like the ITI Implant Study Club to hone his skills in placing and restoring dental implants. If you would like him to settle the dentures vs. implants debate, contact Dr. Dolan at (860) 529-2000.