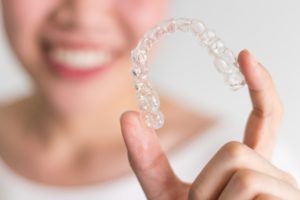 Are you ready to get the straight smile you've always wanted without brackets and wires? Invisalign in Wethersfield is an excellent solution to correct a variety of bite and alignment concerns. The clear aligners apply consistent pressure to your teeth to gradually move them into position. Although you're excited to get started, it's normal to be a bit concerned about what lies ahead. Here's what you can expect during your first week with Invisalign.

First Week with Clear Aligners
Your aligners are removable, but you'll need to commit to wearing them for at least 22 hours per day. You should only take them out when eating, drinking, or performing your oral hygiene routine. Don't worry about the aligners slipping or causing irritation because they are custom-fit, but it will take some time to get used to wearing them. Here are a few simple tips to keep in mind to help you adjust to them quicker.
Protect Your Tongue
Invisalign trays are smooth, so you won't need to worry about any irritation to the inside of your lips or cheeks like you do with metal braces; however, you may experience some discomfort on your tongue. There are edges on the inside of the aligners that may have some rough patches. Use dental wax to cover them. If that's not enough, you may need to ask your cosmetic dentist in Wethersfield to file them down.
Manage Your Pain and Discomfort
You won't need to worry about wires and brackets pulling your teeth into position, but there will be some discomfort when you initially receive your trays because they apply consistent pressure. Chewing exercises can help massage your gums and stimulate blood flow in your mouth. This can act as a natural pain reliever. If that's not enough, you can use an over-the-counter medication to stop your discomfort.
Wear Your Aligners Correctly
Adjusting to life with Invisalign can seem a little overwhelming at first. It's tempting to take your aligners out to get a break, but this will slow the progression of your treatment. If you don't wear your aligners for at least 22 hours per day, it will add unnecessary delays to achieving a straight smile.
Create a Routine
Your oral hygiene is more important than ever to prevent food particles and harmful bacteria from getting trapped between the trays and your enamel. Besides your teeth and gums, you'll also need to care for your aligners. It's important to create an oral hygiene routine early in your treatment plan. Within a couple of weeks, it will become a habit to keep your smile and your aligners clean.
Get a Straight Smile Today!
Your dentist will take the time to explain what you can expect during your treatment to ease any worries or apprehensions. You can head into your transformation process feeling confident about what lies ahead.
About Dolan Dental
Dolan Dental provides the personalized care you'd expect from a small-town practice that's combined with the latest innovations in dentistry. Our modern dental office provides a wide range of services, including Invisalign. We'll help you achieve the healthy, straight smile you've always wanted. Contact our office today to schedule a consultation.