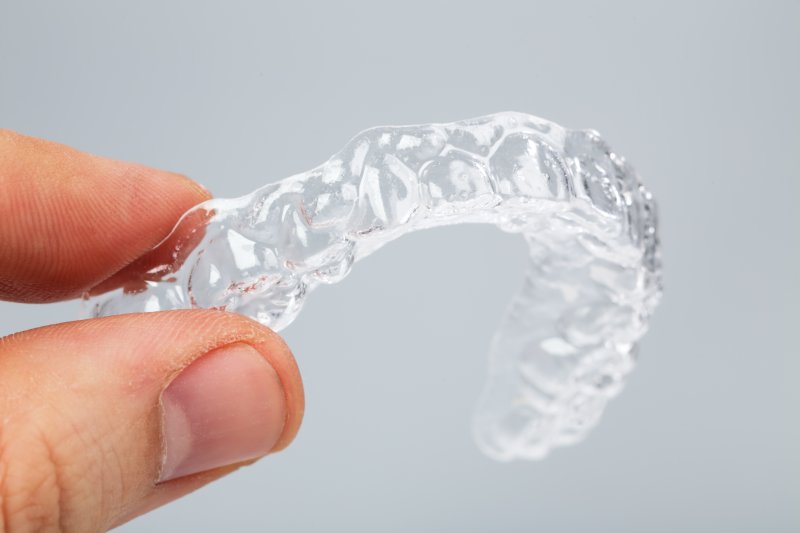 You've finally made it through your orthodontic treatment! But maintenance doesn't just stop there. In order to prevent your teeth from moving from their new, aligned locations, you will need to wear a retainer. By caring for and wearing your retainer as long as you can, you can prolong your orthodontic results and show off your smile for a lifetime. Read on to learn about the best ways you can care for your retainer in Wethersfield.
Remove Your Retainer Before Eating
If you eat while wearing your retainer, it will trap food and plaque. Not only can this cause damage and make it harder to clean, but it also increases your likelihood of developing cavities. Before you eat or drink something that isn't water, place it in its protective case for safe keeping.
Clean Your Retainer Before Storing It
When you're keeping your retainer in its case during the day or a night that you aren't wearing it, don't forget to clean it beforehand. Whenever you take it out of your mouth, give it a rinse under clean water and brush it using a toothbrush and toothpaste. Another option is to store it in a glass with a mixture of baking soda or water. Make sure the container that you keep it in has sufficient airflow. You don't want it to breed bacteria or mold.
Don't Use Harsh Chemicals to Clean Your Retainer
Avoid using bleach or alcohol-based mouthwash to clean your retainer. If you want to soak it, use baking soda, mild vinegar, or denture tablets in water. Never boil it! Harsh chemicals and high temperatures can damage your retainer.
Keep Your Retainer in the Same Location
You'd be surprised how many people lose their retainer. By keeping it in a case and in the same place at all times, you will always know exactly where to go in order to find it. When you remove it to eat, don't put it on your plate or wrap it in a napkin. You may forget about it and it could be easily thrown away. If they aren't in your mouth, they should be in a protective case!
Remove Your Retainer Before Brushing
You shouldn't brush your teeth while you're still wearing your retainer. You will miss large areas of your mouth which will make the brushing ineffective. Remove your retainer before brushing and flossing and then clean it with your toothbrush and toothpaste separately.
Wear Your Retainer Often
If you skip a week or two and try to put your retainer back in, it probably won't fit as well as it used to. Remember to wear your retainer frequently and as your cosmetic dentist in Wethersfield instructs you to. It will only work to keep your smile aligned if you actually wear it!
You've gotten through the hard part of your treatment! Now all you need to do is stay on top of your retainer so you can show off your smile for years to come. Remember these tips in order to make it a reality!
About the Practice
At Dolan Dental Group, Dr. Thomas Dolan and Dr. Brendan Dolan provide a wide variety of services including Invisalign aligners. Dr. Thomas Dolan has been working in the field for over thirty years and continues to attend continuing education courses and participate in advanced study clubs. Dr. Brendan Dolan earned his degree from the University of Connecticut Dental School and is a member of several professional organizations including the American Dental Association and the Connecticut State Dental Association. For more information or to schedule an appointment, visit their website or call (860) 529-2000.