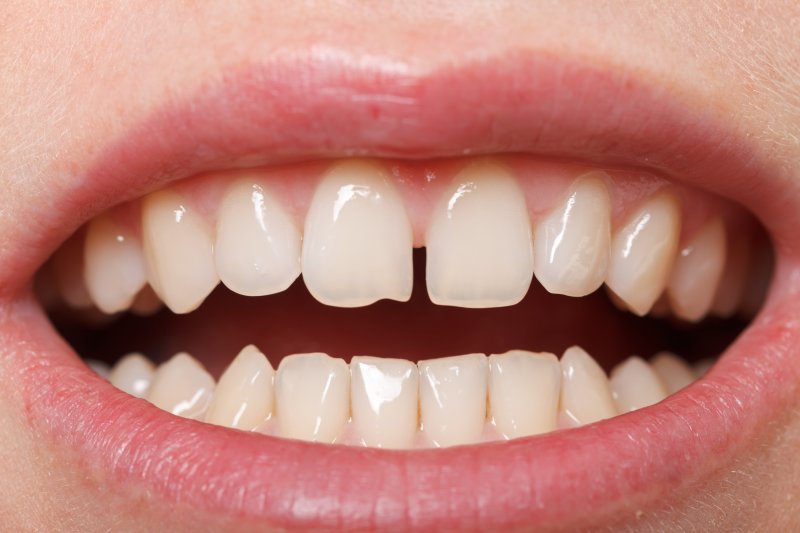 If you have a gap between your teeth that is wider than 0.5 millimeters? That means that you have a diastema. Don't worry – this isn't at all harmful and it happens to both children an adults. Even though treatment isn't usually necessary for your oral health, many people prefer to have this fixed for cosmetic reasons. Continue reading to learn why diastemas can occur and what your cosmetic dentist in Wethersfield can do about it.
What Causes Diastemas?
There are many different reasons that your teeth appear this way. Here are some of the most common:
Small teeth: If your teeth are small in relation to the jawbone, it's possible for gaps to develop between them. Often times this is genetic which is why you may see families where multiple people have diastemas.
Missing teeth: If you have missing teeth, a gap can develop between your other teeth. This is more common when the teeth on either side of the front teeth are missing or undersized.
Gum disease: If you have advanced gum disease, tooth migration is a possibility. Eventually, the teeth can become loose and even fall out.
Oversized labial frenum: This is the tissue that extends from the inside of the upper lip to the gum that's above the upper front teeth. If this tissue is larger than average, it can cause a gap to form.
Habits: If you have a habit of thumb sucking, lip sucking, or tongue thrusting, diastemas can occur.
What Can Be Done About Diastemas?
In order to close your gaps in Wethersfield, your dentist can do a number of different cosmetic treatments. Here are some of the most effective:
Invisalign: A lot of the time, dentists use either traditional braces or Invisalign to correct these gaps.
Porcelain veneers: If your diastema is a result of undersized teeth, this is an especially suitable option. It involves securing wafer thin, custom-made shells of porcelain over the surface of your teeth in order to correct imperfections, including gaps.
Dental bonding: This involves applying resin to the surface of the teeth and then hardening it with a special light.
Gum disease treatment: If your diastema is a result of periodontal disease, gum disease therapy would be necessary to stop the infection and prevent further issues. After this is complete, another treatment can be used to close the gap.
Surgery: When a diastema results from an oversized labial frenum, surgery may be recommended to fix it.
If you have a diastema that you aren't fond of, talk to your dentist about possible solutions so you can work towards a smile that makes you feel confident.
About the Practice
At Dolan Dental Group, you have not one, but two highly skilled dentists providing the Wethersfield community with quality dental care. Dr. Thomas C. Dolan has been a well-regarded professional in the field for more than three decades and is committed to attending continuing education courses. Dr. Brendan Dolan is a member of numerous organizations including the American Dental Association and the Connecticut State Dental Association. For more information on cosmetic options or to schedule a consultation, visit their website or call (860) 529-2000.