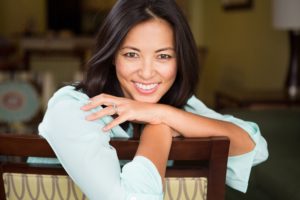 If you're not happy with the way your teeth look, you have many options to achieve the picture-perfect smile you desire. Dental bonding and porcelain veneers rank among the most popular cosmetic procedures year after year. Although they have many similarities, here's what you need to know about the difference between veneers and bonding to make the right choice for your smile.
Dental Bonding VS Porcelain Veneers
Both bonding and veneers can address common aesthetic concerns, like stains and chips, but the methods differ significantly. Bonding uses a composite resin that's shaded to the color of enamel to fix minor imperfections. Veneers are custom-made thin shells that are applied to the front surfaces of the teeth visible when smiling to improve their color, size, and shape. While both are effective, it's important to consider their differences when choosing a procedure for your smile, including:
Solutions: Cosmetic bonding can correct many issues, like exposed tooth roots, decay, chips, stains, and fractures involving 1 or more teeth. Veneers can improve discoloration, chips, and gaps to enhance your entire smile.
Procedures: Bonding is a noninvasive procedure that doesn't require any prep work and can be completed in a single appointment. Veneers are a little more invasive because a small amount of enamel must be removed during the bonding process, which means the procedure isn't reversible. Generally, it takes 2 appointments to place veneers.
Lifespan: Bonding provides a quick fix that lasts for about 5 to 10 years before needing to be replaced. Veneers are designed to provide long-term results with an average life expectancy of 10 years or more. Bonding can discolor over time, like your enamel; whereas veneers are made of porcelain, so they are stain-resistant.
Cost: Dental bonding is cheaper than veneers, and your dental insurance can offset the cost of your procedure if medically necessary, like fixing decay. However, veneers can be the most cost-effective because they can prevent needing multiple procedures. Not to mention, they have a longer lifespan, so you won't have to pay for replacements as often. Most dental insurance considers veneers as elective unless needing replacements, but you might be able to use your coverage for certain steps in your treatment plan, like any preparatory procedures. Many dental offices allow you to make monthly payments with third-party financing to keep a beautiful smile affordable.
Which Procedure is Right for You?
Cosmetic dentistry is a big investment, but you don't have to make the decision alone. After examining your mouth and learning more about your goals, your dentist will recommend the best option to create the confident, attractive smile you desire using a personalized treatment plan. Contact your dentist to find out if bonding or veneers are right for you.
About Dr. Brendan Dolan
Dr. Dolan earned his dental degree at the University of Connecticut School of Dental Medicine and has completed advanced education in dental implants, cosmetic dentistry, and general dentistry. He has the qualifications and experience you can trust to transform your smile. Contact our office today to request your cosmetic consultation.