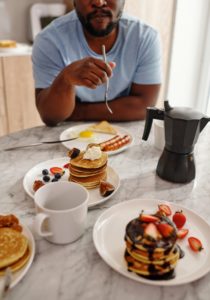 If you're ready to turn the smile of your dreams into reality, veneers are the solution for you. They can address many imperfections using one minimally invasive treatment. Porcelain allows veneers to be thinner than ever, but they are durable and can last for a decade or longer with the right care. Although your veneers will feel just like your real teeth, they aren't as strong as your enamel. Eating certain foods can shorten the lifespan of your new smile. Your cosmetic dentist will recommend a few diet changes to ensure your investment thrives for years.
Eating with Porcelain Veneers
A veneer is a thin shell that's bonded to the front surface of a tooth to enhance its color, size, and shape. When applied to the teeth visible when smiling, they can correct many flaws at once, like stains, chips, and gaps.
It may take a few days to get used to wearing your veneers, but you'll soon forget they aren't part of your real teeth. While you may not notice they are there when you're eating, it's best to cut a few things from your diet, including:
Sugars and Starches: Sugars and starches feed cavity-causing bacteria. Although veneers can't get cavities, your underlying teeth are still vulnerable to decay. It's best to have sugars and starches in moderation and brush your teeth after you've finished.
Dark Foods or Drinks: Porcelain is stain-resistant, but your teeth can still discolor, which can show through veneers. Your cosmetic dentist will recommend skipping anything that can stain your teeth, like coffee, red wine, and berries.
Hard Foods: Hard foods can chip or crack your veneers.
Sticky Foods: Although veneers are bonded securely to your teeth, sticky foods can loosen them over time. Not to mention, they can be difficult to remove from your teeth, which can increase your risk of decay.
Alcohol: Alcohol can weaken the bonding material holding your veneers to your teeth, causing you to need replacements sooner.
Maintaining Your Veneers
Besides watching what you eat, other factors will influence the lifespan of your new smile, like:
Oral Hygiene: Use a soft-bristled toothbrush and nonabrasive toothpaste to brush your teeth twice daily. Use high-quality floss to clean between each tooth nightly.
Lifestyle Habits: Don't smoke or drink a lot of alcohol.
Oral Habits: Break any bad oral habits, like chewing on your fingernails or using your teeth in place of scissors.
Dental Care: Visit your dentist every 6 months for a cleaning and checkup.
You can enjoy a beautiful, confident smile that can last for many years. Although veneers won't last forever, you won't have to budget for replacements by giving your teeth the attention they deserve.
About Dr. Brendan Dolan
Dr. Dolan earned his dental degree at the University of Connecticut School of Dental Medicine and has continued his education regularly in many specialties, like dental implants and cosmetic dentistry. He is a proud member of many professional organizations, including the American Academy of Cosmetic Dentistry. If you're interested in veneers, request an appointment through our website or call (860) 397-6407.