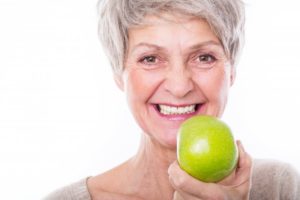 Don't let the cost of your treatment scare you away from getting the dental care you need—especially when it comes to replacing teeth with a permanent, highly-successful solution. The cost of dental implants is necessary so that you can receive professional-grade quality replacement teeth that will last you a lifetime. Not to mention, these dental implants in Wethersfield can actually improve your oral health and aesthetics!
Learn more about dental implants and what contributes to their price in this week's informative blog post. You'll soon see how implants are a true investment in your smile worth making!
You Need an Expert to Place Successful Dental Implants
Implant dentistry can become complex if you don't have a professional that's highly experienced in restorative dental care. Some of the associated cost that comes with implants is making sure that your dentist is a true expert in the field of implant dentistry.
How can you tell if you're working with an expert? Your dentist should have a deep understanding of the mouth—both the inner and outer workings that contribute towards the health of your teeth and gums—so that they can properly place your implants without any outstanding complications. Choosing a highly experienced dentist will help to ensure a successful implant placement in most cases.
The Materials Matter!
For years and years, dental implants have been tested with a variety of different dental materials. Each of them failed until they discovered that titanium was the only material that properly fused with the body. This process is known as osseointegration; it's a key point in what makes implants so successful from other dental restorations. Because of the titanium posts, your implants literally become a part of your body, feeling and functioning like your natural teeth!
If you try to save money by cutting corners and not buying the correct dental materials, you could be risking experiencing dental implant failure.
Need Dental Implants? Call Your Local Dentist for Assistance.
Although you might still be undecided on whether dental implants are the right investment for you and your smile, you can schedule a visit to discuss the procedure with your dentist. One great thing about Dr. Dolan is that he completes the whole procedure himself, so meeting with him can answer all of your questions and concerns from the beginning!
---
About Our Office
As mentioned above, it's important to trust a highly-trained dentist in Wethersfield with your implant procedure. Dr. Dolan can complete the procedure from beginning to end, being by your side throughout your planning, placement, and recovery phase. Contact us today to meet with Dr. Dolan himself and learn more about implant success.