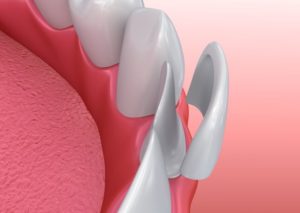 Porcelain veneers in Wethersfield are one of the most popular cosmetic dentistry options available today. But are they the right solution for you? Only a dentist can say for sure. However, it's important to know that veneers are best suited to people whose teeth are basically healthy but which could use some aesthetic enhancement.
Looks Aren't Everything. But They're Pretty Important
Cosmetic dentistry is about restoring or enhancing a person's smile to match their personal goals. Veneers were created with this in mind. They're a great way to address issues that can cause social awkwardness or loss of self-esteem. Examples include:
Stains or discolorations. This can be caused by hereditary factors, lifestyle issues, or medication side effects. Sometimes it's possible to correct these problems with prescription whitening. Other times veneers are the best option.
Uneven, crowded or widely spaced teeth. These issues can affect the smile's symmetry, giving it an unusual or awkward look.
Teeth with cracks, chips, or minor misalignment issues. These problems can affect a single tooth or multiple teeth, making the smile less than it could be.
Teeth that have lost their shine due to thinning enamel. This is a common consequence of aging as well as lifestyle issues such as alcohol consumption.
Porcelain veneers are the preferred treatment for Hollywood celebrities and other people who trade on their looks. They offer the same benefits to everyday people who simply want to enjoy an enhanced smile. You already know you're beautiful on the inside. Why not let the outside look just as appealing?
When Veneers Aren't the Best Option
It would be misleading of us to claim that veneers offer restorative as well as cosmetic benefits. Here are some cases in which veneers might not be the best option for you:
If your teeth are suffering from advanced decay. This is a structural issue that's better addressed by options such as filling, crowns, or bridgework.
If you have fractured or missing teeth. Problems like these may require prosthetic solutions like implants.
If your teeth are severely misaligned. Veneers cannot correct advanced cases of dental misalignment. You may want to consider braces or clear aligners instead.
Keeping Your New Veneers Looking Their Best
One way to think of veneers is like a time machine, one which can restore what time has taken away. After they're in place, it's up to you to keep them looking their best. This means following simple steps like these:
Brushing 2-3 times a day. Your dentist will probably recommend a non-abrasive brand of toothpaste to protect the enhancement from scratches.
Flossing daily. This is important for removing plaque and food particles that are beyond the reach of brushing.
Committing to a healthy lifestyle in general. Your teeth and gums are only as healthy as the rest of your body. Eating right, exercising, and getting plenty of rest are essential for enjoying the greatest benefit from your new veneers. You should also avoid tobacco and vaping devices.
Ask your cosmetic dentist in Wethersfield about veneers and other options during your next appointment. There's nothing like a little knowledge to put a big smile on your face.
About the Author
Veteran dentist Dr. Thomas C. Dolan has been caring for patients for over 30 years. He combines excellent knowledge of general dentistry with advanced training in cosmetic techniques to provide state-of-the-art treatment to his valued patients. You can reach his office online or by calling (860) 529-2000.