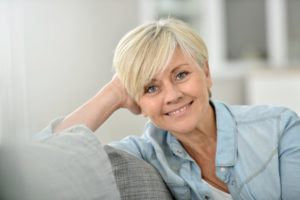 Statistics show that over 40 million Americans have at least one tooth missing. Unfortunately, many won't take the next step to have it replaced. A local dentist says that could be a big mistake, though. Find out why and also discover the value of dental implants in Wethersfield. As you continue reading, also learn about the other replacement options!
Why Do Missing Teeth Need to be Replaced?
A missing tooth can cause more than just an aesthetic flaw. Because your teeth rely on shared tension, when even one space is vacated for a prolonged period of time, the surrounding teeth can begin to shift.
Here are two specific problems that can arise:
Tipping – The teeth on either side of an open space can begin to lean in that direction in an attempt to restore the natural tension, which can cause malocclusion (poor bite).
Super Eruption – Another problem that can affect your bite is a super eruption, which refers to the tooth above a vacated space moving away from its roots. This, too, causes malocclusion.
Both of the issues pose another challenge: the increased chance of gum infection, which can then lead to other health complications like heart disease and stroke.
To prevent any of these problems, it's best to have a missing tooth replaced. The good news is, you have options.
Dental Implant
When it comes to tooth replacement, the dental implant is considered to be the "crème de la crème." That's because it provides a level of security, durability and longevity that is unmatched by any other replacement method.
The process involves your dentist surgically inserting a titanium post into the jawbone that mimics the function of your tooth's root. After an anchoring mechanism called an abutment is added, a final restoration is placed to leave the tooth fully restored.
Dental Bridge
If you prefer a less invasive method of replacing three or more missing teeth, then there is the option of a dental bridge. It's a fixture that's composed of three or more porcelain teeth affixed to it.
The bridge is secured by being cemented to the two adjacent teeth, which, in this case, are referred to as the abutments.
Dentures
An entire set of teeth can be replaced with a traditional set of dentures. They consist of porcelain teeth that are affixed to a resin base that is pink-colored like the natural gums.
The process, which can usually take up to 10 weeks to complete, starts with your dentist performing a thorough examination to make sure your gums are healthy. Then, bite impressions are taken that your dentist will use to custom-design your dentures. He or she will send the details to a trusted lab that will fabricate your new prosthetics.
Which Option is Best for You?
The best way to determine which method of replacement will best fit your needs is to visit your dentist in Wethersfield for an examination. The most important takeaway, though, is the necessity of being proactive and reaching out today to schedule a visit.
About the Author
A graduate of the New York University College of Dentistry, Dr. Thomas C. Dolan has been providing top-notch dental care for over 30 years. Throughout his career, he's maintained an eagerness to learn, which is why he has been awarded Mastership to the Academy of General Dentistry. Dr. Dolan replaces missing teeth and rejuvenates lives by placing dental implants at Dolan Dental, and he can be reached for more information through his website.