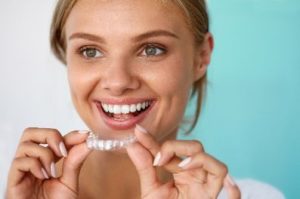 You've been wanting straighter teeth for a while now, but you don't want to get braces and look like a teenager again. Lucky for you, there are two other options: Smile Direct and Invisalign in Wethersfield. Both options are similar, but they each have a few key differences. How can you figure out which choice is right for you? What are their pros and cons? Let's look at the differences to help you make that choice.
What Do Invisalign and Smile Direct Have in Common?
Both treatments use clear aligners to subtly shift your smile into a straighter position. They are both comfortable, and no one will be able to see that you are wearing them. Those are basically the only similarities between the two straightening treatments. Now let's look at the differences.
What's Unique to Smile Direct Club?
Smile Direct Club is ideal for patients who don't want to take the time to visit their dentist. From the comfort of your own home, you can create the impressions of your teeth that would normally take place in the dentist's office. Simply send off your impressions to a specified licensed dental professional, and they will create your aligner trays designed to treat your smile.
During this treatment, you do not have to talk to a dentist, which is great if you have dental anxiety, like many Americans. However, it can be hard to make changes to your treatment plan since you can't just call your dentist in Wethersfield. Smile Direct Club products are in high demand, and as a result their customer service lines are typically very busy. If you are a patient person, though, this could be the right treatment for you.
What's Unique to Invisalign?
Invisalign can fix more severe alignment issues than Smile Direct can. Your dentist can create reliable, professional impressions from the start. In addition, if you lose a tray or need to make changes, you can simply let your dentist know and not have to make any frustrating customer service calls. Although Invisalign might be more expensive, the treatment is more reliable because it comes with the supervision of your trusted dentist.
When you look at the options presented here, one stands out as the clear winner. Invisalign provides the most benefits, although if you have minor misalignment issues, you can still achieve the results you desire with Smile Direct Club. Talk to your dentist about which choice would be better for your unique smile.
About the Author
Dr. Thomas Dolan has more than 30 years' experience as a dentist. He is proud to work with his son, Dr. Brendan Dolan, at their practice in Wethersfield, CT. Dr. Thomas Dolan is certified in Invisalign to help you achieve the straight smile you've been wanting. To get started on your journey to straight teeth, contact the doctor at (860)-529-2000.