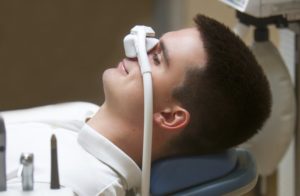 You had one bad experience with your dentist as a child, and you've been afraid to go ever since. Even the thought of regular cleanings is enough to send you into a cold sweat. As a result, you know you've got dental issues, like cavities and chipped teeth, that you should get fixed, but how can you when the idea of seeing your dentist sends chills down your spine? Thankfully, there's a solution – sedation dentistry in Wethersfield. Keep reading to learn more about it and how it can benefit you.
What Is Sedation Dentistry?
Your dentist in Wethersfield offers two main types of sedation dentistry:
Nitrous oxide: This type of sedation is ideal for patients who just need a little help relaxing in the dental chair. You will wear a mask over your nose through which you will breathe a gas that creates a euphoric sensation, hence the term "laughing gas." Once the gas enters your system, you will be relaxed enough to get the care you need, worry-free. About 15-30 minutes after the mask is removed, you should be awake enough to resume your day.
Oral conscious: For more significantly anxious patients, your dentist can prescribe a pill to take about an hour before your procedure. Since it will begin to take effect right away, you'll need someone to drive you to and from your appointment. It will make you feel light as a cloud, so much so that you may even briefly fall asleep while getting your dental work done! The effects will likely last the remainder of the day, so you should plan to get plenty of rest afterwards.
Who Is a Candidate for Sedation Dentistry?
If you experience any level of anxiety, whether mild or severe, surrounding going to the dentist, you would be an excellent candidate for sedation dentistry. However, anxiety isn't the only reason many patients opt for some kind of sedation. It's also ideal for patients who:
Have a low tolerance for pain
Gag easily
Are afraid of needles or the sights and sounds of a dental office
Have negative experiences from a previous dentist
Have to receive several dental treatments in one sitting
Does Sedation Dentistry Have Any Side Effects?
More often than not, you'll feel groggy or sluggish for a few hours after the procedure, especially if you received oral conscious sedation. On rare occasions, however, there are a few other side effects that may occur, including:
Nausea
Amnesia surrounding the procedure
Low blood pressure
Headache
Forgetting about your dental procedure is nothing to be worried about, but let your dentist or doctor know if you experience any of the other side effects.
Sedation dentistry can benefit lots and lots of patients. If you experience dental anxiety, ask your dentist about their sedation options.
About the Author
Dr. Thomas Dolan has more than 30 years of experience as a dentist. He is proud to work alongside his son, Dr. Brendan Dolan, at their practice in Wethersfield, CT. Dr. Thomas Dolan is certified in both types of sedation dentistry to help you get the dental care you need without any worries. To learn more, click here or call (860) 529-2000.