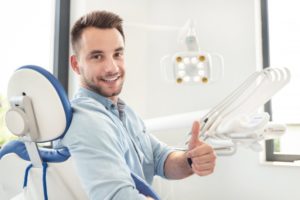 You pay for dental insurance every month and you vaguely know that it's important, but you're not entirely sure how it works. If all of the technical-sounding language your insurance company uses sounds like gibberish to you, you're not alone. Many Americans don't fully understand their dental insurance, and as a result, end up overpaying for their dental care. To make the most of the coverage you're paying for, read these four tips on how to maximize dental insurance benefits.
1. Know Your Deductible and Annual Maximum
Here are two crucial dental insurance terms to know:
Annual maximum: The highest dollar amount that your insurance company will spend on your dental care.
Deductible: The amount you must pay out of pocket before your insurance policy starts paying for your treatments.
Deductibles for dental insurance are typically on the low end (around $50) while annual maximums are often between $1,000 and $1,250.
2. Keep in Mind That "Out-of-Network" Doesn't Necessarily Mean "No Coverage"
If a dental practice is "in-network" for you, that means they have partnered with the insurance company to deliver discounts on services. For the most cost-effective care, it's recommended that you visit an in-network dentist. However, even if a dentist is out-of-network for you, you might still qualify for coverage. It simply means that the percentage of your bill that your insurance covers might be reduced.
3. Ask for a "Pre-Determination" of Benefits
Before beginning a dental treatment that's more extensive than a routine preventive visit, always ask the dentist's team to send a "pre-determination" of benefits to your insurance provider. They'll return a statement showing how much of the treatment your insurance would cover. That way, you'll have a good idea of how much you'll be expected to pay.
4. Schedule Two Checkups and Cleanings a Year
The vast majority of dental insurance plans cover 100% of the cost of preventive and diagnostic care, 50-80% of the cost of restorative treatments, and 0% of the cost of cosmetic procedures. Since your routine checkups and cleanings are usually taken care of, it would behoove you to attend two of these visits every year. These appointments are a great opportunity to spot oral health issues before they snowball into larger, more complex, and pricier problems. Skipping out on these biannual visits could cost you more in the long term, so take advantage of them!
Keep in mind that dental insurance policies vary from person to person, so you'll need to look over your specific plan to find out what it covers. If you need assistance, just call your dentist. A member of their team should be happy to review your policy and maximize your benefits.
About the Practice
At Dolan Dental Group, Dr. Thomas Dolan and his son, Dr. Brendan Dolan, work hard to provide affordable dental care to the people of Wethersfield, CT and its surrounding communities. That's why they're in-network with many popular insurance companies, including Cigna, Delta Dental, BlueCross BlueShield, and MetLife. They'll also file claims for other plans to help you maximize dental insurance benefits. If you have any questions about making the most of your coverage, don't hesitate to visit their website or give them a call at 860-529-2000.