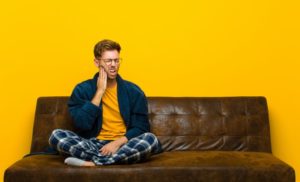 Having a toothache can really make your day tough to handle. It can be difficult to concentrate on your daily tasks when your mouth is throbbing or uncomfortable. And while you may think you'll get some relief once you lay down to get some sleep at night, it seems to get worse! Read on to learn five reasons why your toothache may get worse at bedtime and the importance of visiting your emergency dentist as soon as possible.
#1. Increased Blood Circulation
During the day, you are usually moving around. Once you lay down in your bed, your head is finally on the same level as your heart, lungs, and limbs. As a result, blood begins to rush toward your face, including your mouth and brain. This increased blood flow exerts pressure on the painful tooth, making your discomfort increase.
#2. Unconscious Teeth Grinding
If you suffer from bruxism (teeth grinding), you may be completely unaware of it! While you slumber, your unconscious mind is busy at work, filtering all the stresses and anxieties of your day. This can lead to teeth grinding throughout the night. Additionally, health issues like TMJ disorder and sleep apnea can cause bruxism. Unfortunately, grinding your pearly whites places more strain on the ligaments that hold their roots in place. You may wake up in the middle of the night with an even worse toothache as a result. Be sure to not only visit your dentist about your tooth pain but also getting a nightguard to protect your teeth at night.
#3. TMJ Disorders
The temporomandibular joint connects your jaw to your skull. Some people have issues with these two joints that are located on both sides of their faces, which is called TMJ disorder. As a result, they may experience jaw pain, popping, clicking, earaches, toothaches, and tooth pain. This tension may increase during the night, placing extra force on the roots of your teeth, and making your mouth ache. If you already are having an issue with one of your pearly whites, TMJ disorder can worsen it.
#4. A Broken Tooth
If you have a broken tooth, you may not even be aware of it! Sometimes a tiny crack can't be seen directly, especially if it is on a tooth that is in the back of the mouth. While you may not be able to see it, you most certainly may feel it! As you lay down to relax at night, that's when you might feel the extent of the effects of having broken enamel. After chewing during the day while you eat and speaking freely, your throbbing tooth may be more noticeable at night once all the action is done.
No matter what the cause of your toothache is, it's essential you receive care from a dental professional as soon as possible so they can discover the root cause of your pain. The sooner you receive treatment, the sooner you can be on your way back to a healthy, happy smile!
About the Practice
Dolan Dental Group keeps the smiles of Wethersfield healthy and whole through the expertise of its two dentists. They provide a comprehensive range of services to keep your teeth and gums in top condition, including emergency care. With same-day appointments available, and the offering of dental sedation, they can compassionately and effectively assist you with your toothache or any other oral health issue. To schedule a visit, contact them through their website or call (860) 529-2000.