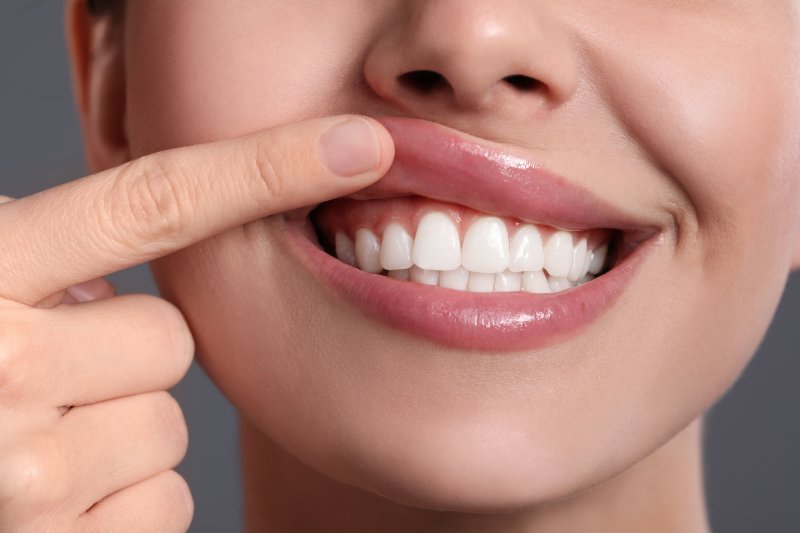 One of the biggest things that your dentist can offer you is peace of mind. If you notice something is amiss in your mouth, having a dental professional tell you what's wrong can help eliminate a lot of uncertainty.
For example, have you recently noticed a bump developing on your gums? There could be quite a few things that could cause that, and a dentist could do a lot to help you tell them apart.
That said, while professional guidance is crucial, it might not hurt to learn a little bit more about what the issue could be before you see your dentist. Here's what you could be dealing with.
Fibroma
These are the most common small bumps that can form on the gums. They're hard, smooth, painless lumps that sometimes look darker or lighter than the surrounding tissue.
Fibromas are typically a consequence of irritation or injury, like dentures that rub against the gums. They're generally harmless, though you can have a dentist surgically remove it if it becomes large enough to annoy you.
Oral Abscess
Abscesses are small bumps that can form as a consequence of infection. Abscesses may feel like soft, warm lumps, and they tend to be remarkably painful. If the bump on your gums is causing a throbbing pain, you should call your dentist to deal with the abscess at an emergency appointment.
Cyst
Cysts are small bubbles that usually form around dead or buried teeth. Cysts are usually painless unless they become infected—however, if they get large enough, they can put excess pressure on the teeth and jaw. That means that they're usually worth removing, along with any dead root tissue in the area.
Oral Cancer
Oral cancer can look a variety of different ways, and it may present initially as a small lump or growth on your gums. Oral cancer may also look like a sore that won't heal, a red or white patch on the gums, or pain when chewing or swallowing.
Many of these symptoms can be associated with other conditions, but one of the big differences is that oral cancer will not heal on its own. If you have a sore that doesn't heal after several weeks, that could be an indicator of cancer.
This isn't a complete list of every kind of bump you could find on your gums, just some of the most common. If you want to know for sure what you're dealing with, you should contact a professional.
About Our Practice
At Dolan Dental, we pride ourselves on being able to marry the cutting-edge technology of a large hospital with the comfort and compassion of a small family practice. That means that you can expect us to not only give you the highest quality of dental care but also to tailor that treatment to your individual goals.
If you have any questions about an oral health problem, we can be reached at our website or by phone at (860) 529-2000.