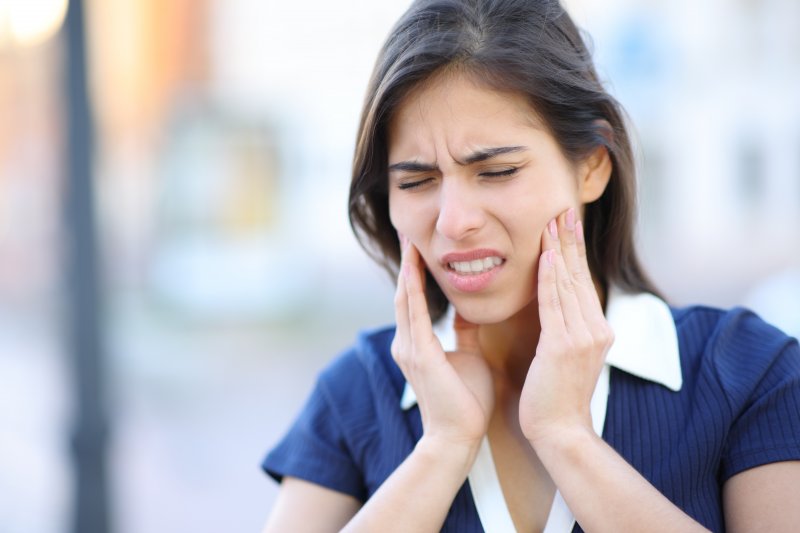 Letting your guard down in a boxing match isn't the only cause of facial pain. Discomfort in the face can range from dull aches to intense pain and from one side of the face to the other. Sometimes it lasts only briefly before resolving itself, but other times it can be persistent and require medical treatment. While pain in the face, cheeks, or forehead can be caused by many factors, it can also be the result of a dental emergency. Here are some dental causes of facial pain.
Temporomandibular Joint Disorders (TMD)
The temporomandibular joints (TMJ) are the two hinges between your jaw and skull. A disorder associated with it can cause swelling in the joint or pain or discomfort when chewing or speaking. The jaw might lose mobility or click when opening or closing. The bite can become misaligned, and the jaw can become fatigued. If you are experiencing these symptoms, consult with a dentist.
Dry Socket
After undergoing a tooth extraction, a clot develops in the empty socket to protect the wound. If this clot falls out prematurely or fails to develop properly, it exposes the underlying bone and sensitive nerves. The resulting condition is called dry socket, and it can involve severe radiating pain. The bone might be visible through the socket where the clot is supposed to be. Since proper clotting assists recovery within the affected area, a dry socket should be treated by a dental professional. A dentist can also assist with pain management.
Dental Abscess
An infection affecting the soft tissues inside the tooth is a dental abscess. Bacteria can enter the tooth through a crack or decay before wreaking havoc on the nerves and blood vessels within. Symptoms include persistent throbbing pain, sensitivity in the tooth and gums, inflamed gums, a foul taste, and fever. This condition does not resolve itself and requires attention from a dentist. If left untreated, it can result in tooth loss.
Toothache
A toothache results from an infection in the tooth or surrounding gums. The pain can radiate from the affected tooth across the cheek and jaw of the corresponding side of the face. A headache or migraine can sometimes be caused by a toothache or other underlying dental problem. If a toothache lasts longer than a day, consult your dentist.
Facial pain can also have causes completely unrelated to issues with the teeth or mouth like sinus infections, trigeminal neuralgia, shingles, or even other causes such as facial trauma, and can require treatment from a medical doctor. In many other cases, the cause can be rooted in the teeth. By having some idea of how to tell the difference between various types of facial pain, you can act to resolve them more quickly.
About the Practice
Dolan Dental provides friendly, one-on-one service to patients in Wethersfield, CT. Led by Drs. Brendan Dolan and Riley Gionfriddo, the locally owned and operated practice specializes in dental treatments including preventive dentistry, restorative dentistry, cosmetic dentistry, and emergency dentistry. For more information regarding the dental causes of facial pain, contact the office online or dial (860) 529-2000.